Steel Shaft Products
Our portfolio of steel shaft products presently includes metric sized rounds in 1045 Turned, Ground and Polished, 304 Stainless Steel, 4140 Q & T and AISI 1018.
The company's sources for these products are primarily from North American mills. A small percentage comes from offshore sources for sizes that are unavailable or hard to source domestically.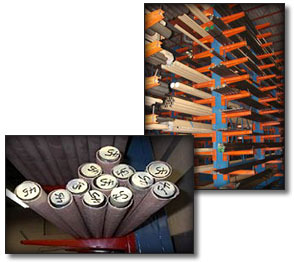 All products are purchased in accordance with industry standards and are received and inventoried to comply with any customer's Quality Assurance requirements. All products have complete traceability, both in a paper trail and electronically through the company's computer system. Mill test reports can be issued in a variety of formats depending on customer request.
We are always continuing to expand our product range in sizes or in grades as the needs of our customers change.